The Jollibee mascot takes selfies with the Statue of Liberty in New York as backdrop. The Philippines' largest fast-food chain opened a store in Manhattan on Octoober 27, 2018. Photo from Jolllibee US Facebook page.
by: Jessica Fenol, ABS- CBN News
MANILA – Jollibee Foods Corp is exploring the possibility of introducing other Filipino food products to the global market such as Adobo rice, its CEO said Friday.
Adobo rice, or the fusion of marinated chicken or pork and the staple grain, has the potential to become an international favorite similar to "halo-halo" and Jollibee's peach mango pie, JFC CEO Ernesto Tanmantiong said during a business forum in Pasig City.
Adobo rice is currently being "introduced" in Jollibee in Manhattan in the US and may soon be available in other branches outside the Philippines, Tanmantiong said.
"We're actually introducing adobo rice in Jollibee stores outside the Philippines. We have done that in Manhattan and it also goes well with chicken joy. And we started to notice that even non-Filipinos love it," Tanmantiong said.
"So there might be a chance. We still don't know yet, we're trying to roll out to other stores," he added.
Jollibee's Manhattan, New York branch opened in 2018.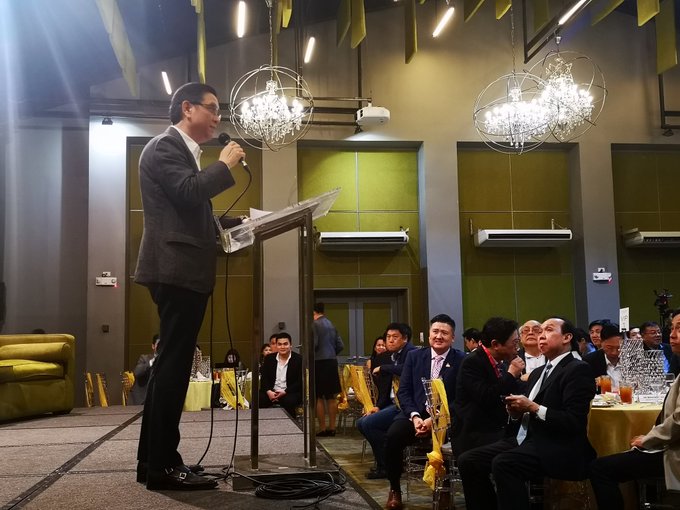 Jollibee Foods Corp CEO Ernesto Tanmantiong speaks to the members of Anvil Business Club courtesy of Jessica Fenol
The key to JFC's global success is great tasting food, Tanmantiong said. The country's largest restaurant operator has more than 3,000 outlets globally in its portfolio.
Good food, value for money and strategic locations are the "basic success factors" in growing the business here and abroad, Tanmantiong said.
"What we notice is that are the basic success factors of food service business in the Philippines are actually the same success factors in other markets, be it in Southeast Asia, in China, in the US," he said.
With an array of great-tasting food in its arsenal, Jollibee aims to become one of the top 5 largest restaurant operators in the world.
Expanding its operations in the US and China, as well as maintaining its growth in the Philippines can help achieve that dream, Tanmantiong said.
This article is written by the Author in the by-line last Oct 12, 2019 and was originally posted by ABS-CBN NEWS ONLINE which can be accessed at https://news.abs-cbn.com/business/10/12/19/chicken-joy-with-adobo-rice-jollibee-says-its-possible-as-us-testing-ensues